BY CARTUNA STAFF: January 24, 2017. After standing in line for hours in the frigid cold on a January night in northern Michigan, the masses have finally made it inside of Steve Wirtz's working space to hear his "State of the Studio" address. This was Steve's 18th speech in this regard, and it can be argued that this one was the most important since 2002.
Shortly after 7 pm local time, Wirtz appeared through the studio door to a thunderous ovation from the standing room only crowd. He then made his way to the podium-slowly, as per usual, with frequent stops of greetings with his supporters which included several celebrities form the fields of television, movies, politics and popular music. Wirtz himself looked relaxed and stylish in a grey suit with a green patterned tie of perfect length. Wirtz was carrying papers containing his notes for the speech, which was in contrast to recent years where he seemed to just "wing" the annual address. After wading through the attendees, Steven F. Wirtz stepped up to the podium.
"My friends, I welcome you with art and love." (a thunderous ovation erupts, continues for several minutes). " I am here to bring you the state of the studio in this year 2017." (more applause) " I'd like to welcome you all to upper Michigan-there are doctors standing by in case anyone has frostbite." (laughter) "I'm so happy to be speaking to you once again. What a crazy country, eh?" (more laughter, some applause)
"This is a very crucial time for the studio. After the move two years ago to this location, we have been faced with many challenges, and we will continue to face challenges in the future. Our location provides us a beautiful setting in which to create art and develop a more natural way of life. But, that out of the way location makes travel and communication-due to limited internet access-more difficult. I am not standing here today to tell you I have all the kinks worked out, but I am here to tell you that things will get worked out." (applause)
"We had a difficult 2016. Several of the events we attended did not live up to the expectations we had for them sales-wise. We have learned from that, and I am confident that 2017 will be a better year." (applause)
"I'd like to take a few moments to thank those people who did provide us with love and support last year. First off, the amazing greyhound community. The folks who organize get-togethers of greyhound and sighthound breed dogs have been a huge benefit to this studio for the past several years, and I can't imaging what things would be like without their continued support of this studio's art. Greyhounds in Gettysburg (GiG), the gathering at Dewey Beach, Delaware, greyhounds Only of the Chicago area, and Greyhounds of eastern Michigan (GEM), have all been so kind to myself and my artistic mission. I thank them all and the fabulous people who attend their events." (applause)
"I'd also like to thank the wonderful people of the Les Cheneaux Area Artisan Cooperative. These are the creative folks in our own backyard, and it has been a real treat to meet them and get involved with their group. They are not only talented, but they are extremely welcoming and friendly as well. I'm looking forward to a long relationship with them." (applause)
"Lastly, Id like to thank Lisa Consaul McKay for her continued work with the studio. She has been an invaluable asset with her willingness to travel and help with the studio's sales team. Being Canadian, Lisa has an interesting view of things, We only hope in the coming year to figure out what the heck that is." (laughter, applause)
"Now, let's highlight some of the things we have planned for this year. This is going to be a huge year in regard to travel. I will be appearing in ten events as of this moment, but that number will probably increase by a few before too long. This will be an important year, as it is my intention to make it my 'farewell tour' so to speak." (mutterings from crowd) " After this year I will not travel long distances to do art fairs or other events." (more muttering) "My intent will be to concentrate a little on some local events, but concentrate with greater intensity on gallery and on-line sales." (muttering and a smattering of applause) "I feel this is the way to go. It will be hard not seeing some of the folks at different events around the country, but I feel it is better to invest the time and energy in this studio and homestead rather than wait another year or more." (applause)
"So this year: Starting out, we will be making our first appearance at Sandy Paws-a greyhound event in Jekyll Island, Georgia. That will be in early March. I will have an exhibit of greyhound art and other surprise pieces. I will also be holding a paper mache workshop there. it should be a lot of fun." (applause) "Speaking of hands-on events, March 7th will mark a milestone as I will be making my last appearance at Friendship Learning Center elementary school in North Fond du Lac, Wisconsin. I have been appearing there for 25 years straight doing a workshop with the 4th grade students. The art teacher there, Alice T. is retiring, and so it ends the annual artist in residence day, which she had established. I want to wish Alice the absolute best in her retirement. She is an outstanding artist, and it will be exciting to see what she creates now that she'll be out of the classroom." (loud applause) "Next, in late April, GiG. Greyhounds in Gettysburg. Quite simply, one of the best greyhound gathering events anywhere. This will be my 5th appearance there, I believe. I am hoping to have a special exhibit, since it will most likely be my last at that great event." (applause) "Next, in May, I'll be taking the show on the road way out to Utah and the town of Kanab. This will be another greyhound gathering with a group called the Greyhound Gang. I am hoping this trip will also allow me to explore some of the scenery out west, and do some hiking in some canyons and such. 'Should be quite the epic road trip." (applause) "Coming up in June, I'll be doing yet another greyhound event and workshop, this time in Abilene, Kansas. Man, that's a lot of greyhound art! I'm excited, though, because that means I have to come up with some new designs and techniques to keep me from going crazy. July has me doing some local events, with the end of month at beautiful Marquette, Michigan" (Loud applause and whistles) "Oh, we have some Marquette people here!" (more applause) " The latter part of the summer will have us at more local events-details still being worked out, then as we get into fall, it will be one last ride out to Delaware for the Dewey Beach greyhound event, and then a couple more shows still being confirmed to round out this busy exhausting (laughs) year." (applause, cheers)
"If I survive the year (laughter from crowd) I hope I'll be able to say it has been a successful one. If not, I'll be taking your order at McDonald's next year." (more laughter)
"Next, I'd like to say a few words about Nada Piņata, the do-it-yourself kit that I invented a few years ago. Many of you are familiar with this product, but I know there are also many of you who are not. Nada Piņata is a fun art project that you can do at home. My intent with this concept is to 'tap into' the do-it-yourself craze, and allow people to create a paper mache sculpture that has the structure of a Steve Wirtz original. I provide the pre-made wire armature, and the participants provide the creative effort with the help of some supplies and instructions that are included. I am hoping this will be a 'breakout' year for Nada Piņata, and it will be getting a slight makeover and it's own section of the website. I have always enjoyed seeing what other people have done with their kits. Some of the results have been mind blowing. As I do less and less artist-in-residencies, Nada Piņata will get more prevalent as my way of providing a creative outlet for those who need it. And hey, I think we could all use a creative outlet now and then, right?" (loud applause and whistles)
"Alright! Well, let's wrap this up so we can all get some hot apple cider." (laughter) "To all of my collectors around the world: Thank you. You give me the desire to keep creating my art. I deeply appreciate you. Thank you also to all who have taken a workshop, or just followed my career on the web. I hope I have provided a smile or two along the way. Hey! More to come!" (cheers) " This is gonna be a wild ride! The studio is strong!" (Wild cheering) "I'll talk to you next year! Thank you for coming-good night!" (standing ovation, lasting several minutes.) Wirtz steps away from podium, tosses his stack of papers in the air. Crowd cheers even louder. Wirtz makes his way through the crowd and into the Michigan night.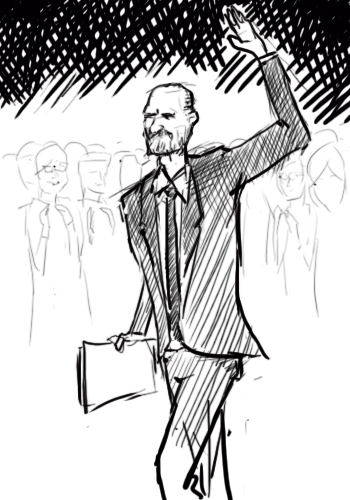 \